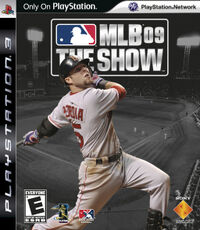 MLB 09: The Show is a baseball simulation video game developed by SCE San Diego Studio and published by Sony Computer Entertainment for the PlayStation 2, PlayStation 3, and PlayStation Portable systems. It belongs to the Major League Baseball game series on the PlayStation systems. MLB 09: The Show is the fourth edition of the MLB: The Show series.
This game offers all 30 Major League Baseball Teams.
AAA Teams
Edit
Ad blocker interference detected!
Wikia is a free-to-use site that makes money from advertising. We have a modified experience for viewers using ad blockers

Wikia is not accessible if you've made further modifications. Remove the custom ad blocker rule(s) and the page will load as expected.