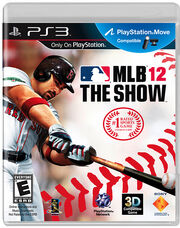 MLB 12: The Show is a Major League Baseball video game published by Sony Computer Entertainment and developed by Sony San Diego. The game was released on March 6, 2012 and is available on PlayStation 3 and PlayStation Vita.
Adrian Gonzalez, first baseman of the Boston Red Sox was awarded the cover after he hit .338 with 27 homeruns and 117 runs batted in. Gonzalez is the third Red Sox player to be awarded the cover, the first being David Ortiz for MLB 06: The Show, and the second being Dustin Pedroia for MLB 09: The Show.
This marks the first year where the game will not be developed for the Playstation 2. The game will also be unavailable for the Playstation Portable. However, it will be the first installment of the series on the Vita.
This game offers all 30 Major League Baseball Teams.
AAA Teams
Edit