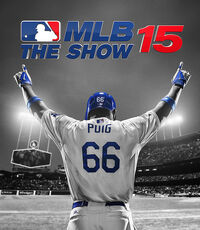 MLB 15: The Show is a Major League Baseball video game published by Sony Computer Entertainment and developed by SCE San Diego Studio. The game will be released on March 31, 2015 for PlayStation 3, PlayStation 4, and PlayStation Vita.
Yasiel Puig, center fielder for the Los Angeles Dodgers, was awarded the cover after he hit .296 with 16 home runs and 69 runs batted in.  However, what won him the cover was a vote among the MLB players.  Puig is the first Dodgers player to be awarded the cover.
This game offers all 30 Major League Baseball Teams.
AAA Teams
Edit
Ad blocker interference detected!
Wikia is a free-to-use site that makes money from advertising. We have a modified experience for viewers using ad blockers

Wikia is not accessible if you've made further modifications. Remove the custom ad blocker rule(s) and the page will load as expected.